I was a little undecided this week on which ad to write about. Originally I was going to write about Apple's AirPods' advert Bounce. As much as I'm not a fan of the product Apple sure does market it well. The advert just feels fun, free and different. Clearly, I didn't end up writing about this ad though and as my title may have given away I am going to talk about Heinz doing some high-level influencer marketing with Ed Sheeran.
As much as I could have talked about Apple's advertising I decided on this Heinz advert. It just seemed more relevant as I'm working at Ed Sheeran's Leeds events this week.
The advert first aired about a month ago and adds a nice change to influencer marketing. Rather than a famous celebrity sell us a product that feels very staged Sheeran pitches his idea to Heinz. If you haven't seen it yet give it a watch below and see what you think.
Why I like this campaign
Really I should call this celebrity endorsement but Ed Sheeran is a more relatable celebrity. To me, this relatability makes him an influencer.
Creating an authentic, relatable influencer marketing campaign can be difficult. You want your audience to believe your influencer not just think that they are selling out to your product. In this instance, anyone who knows much about Ed Sheeran knows his love for Heinz Ketchup. Well, that's if the tattoo didn't give it away.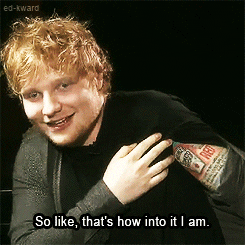 It's not just who they used as their influencer though it's how they presented the ad too. The first bit of text we see, "Based on a real DM from Ed Sheeran" gives us that first bit of authenticity. Ed Sheeran reading this message aloud as the ad he talks about happens adds to this and with Ed's sense of humour and cheekiness, it sounds like something he would suggest.
Verdict
Overall I think that this has been done really well, it plays to Ed Sheeran's audiences with some true believability. I doubt there are any true Ed Sheeran fans that would be thinking that he has done this for the money. It's a brilliant piece of influencer marketing but also a brilliant ad. The ad has that something different that makes it rememberable and gets people talking about it.
I hope you have enjoyed my brief look into Ed's Heinz ad. As always, I would love to see your comments below and I'm always up for a discussion on any of my blog topics if you want to drop me a message via LinkedIn or Instagram. What did you think of influencer marketing strategy?
Featured image courtesy of The Drum.